305th Guards Kenigsbergskiy Red Banner order of Kutuzov Missile Regiment
305-й гвардейский ракетный Кенигсбергский Краснознаменный ордена Кутузова полк
Military Unit: 33847
Activated 1.9.60 at Vyry, Estonia, under the 23rd Guards Missile Division.
Awards from a Guards Cannon Artillery Brigade (either the 11th, 12th or 13th).
The regiment consisted of two battalions with each 4 R-12 (SS-4) pads.
The first battalion went on alert duty 1.1.62 (four R-12 pads), and the second battalion on 1.1.62 (first two R-12 pads) and 10.2.62 (the remaining two R-12 pads).
From 1982 attached to the 40th Missile Division.
The two battalions stood down in 1989, and the regiment was disbanded shortly thereafter (1990).
US designation: Voru MRBM complex (Voru launch site 1 and 2). Type II (pad) sites.
Voru launch site 1 (57 45 46N, 26 47 15E):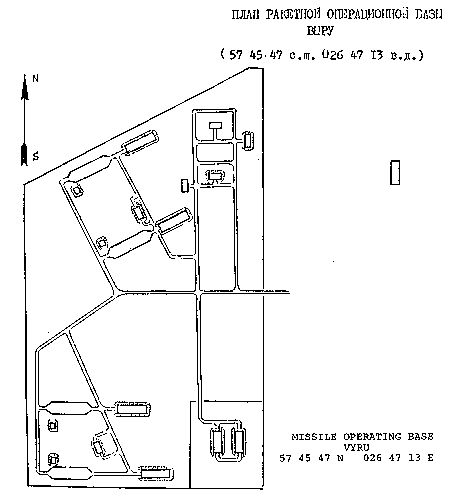 Voru launch site 2 (57 49 03N, 26 50 31E):